Summer is coming and so are picnics, beach days and quick snacky lunches! I am a huge fan of snacking, I would go so far as to say…I live for snacks. Before changing my lifestyle to a purely plant-based one, I was a huge fan of cheese, crackers, grapes and dips, bring it on baby! So now that we are plant-based people, there is a significant gap to fill. There are wonderful dairy-free cheeses available, my new favourite being the Woolworths dairy-free cheddar (thanks, Mark!) You can create a pretty cool cheese platter using these store-bought "cheeses" but it is always nice to make something from scratch, right? One cheese that is not available are those dinky little rolls of cream cheese rolled in pepper/herb/sundried tomato, so I decided to give it a try. I used a combo of macadamia and cashew nuts for variety, but I am pretty sure this would work with just cashew nuts too - if you try…let me know!
You will need:
1 cup macadamia nuts
1 cup cashew nuts
6 tbsp water
1 probiotic capsule (I used this one)
3 cloves of garlic (minced)
Juice of 1/2 a lemon
1 tsp salt
black pepper/herbs (whatever you want to roll your cheese in!)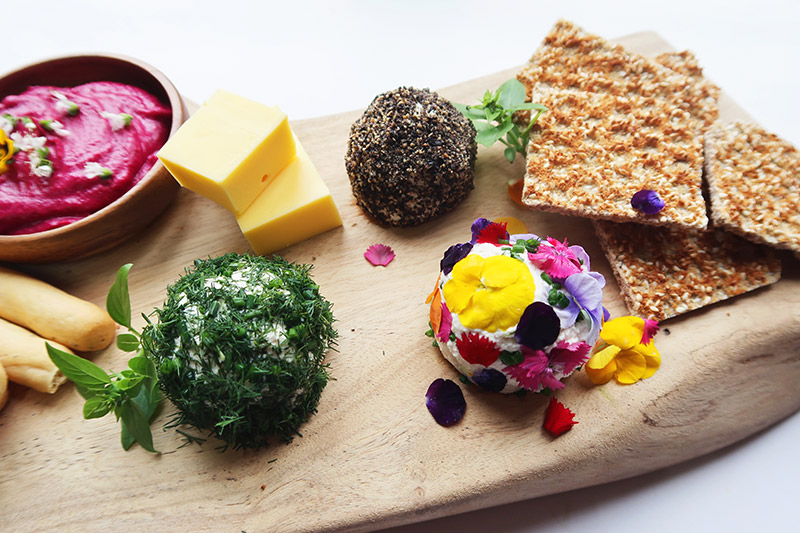 First off, soak your nuts in water overnight or you can use my super quick method of just boiling them until they are soft. You can see my method and reasoning over here. Next up, strain and rinse your nuts and add them to a high-powered blender with your 6 tbsp water and blend until they are totally smooth, this can be a little tough, but try not to add any extra water. Now it's time to add in your probiotic. Open up the capsule and tap, cut or scrape all the good stuff out. I recommend melting the capsule inside in just a little warm water to make it easier to mix with the nut mixture. Just whatever you do… don't add in the actual capsule part. Eeeuw.
Now it is time to transfer your "nut mix" into either a nut milk bag or cheesecloth, you can also just use a clean dishcloth if that is all you have on hand. Secure the sides and squeeze out any extra moisture. Just make sure you don't squeeze too hard at the start this might cause your cheese to come through the cloth. Put your rough ball of cheese in a warm place and leave it to ferment for 24 hours. Once the time is up and your cheese is cheesy, take it out of the bag/cloth and plop it into a bowl. This is where you will stir in your garlic, lemon juice and salt. You might also decide to divide up your cheese mixture and mix in some different flavours, like herbs, spices or olives, totally up to you! I would just recommend that you keep the flavour additions as dry as possible so you don't ruin your cheese texture.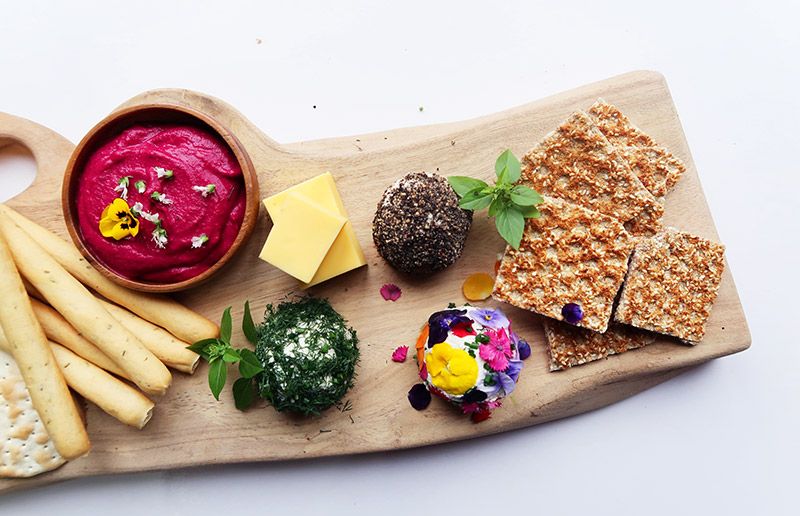 This cheese is creamy, tangy and delightful! You can roll it into logs, balls or serve it in a dish. Once you have shaped your cheese place it in the fridge on some baking paper and leave it overnight. Make sure you cover it! The next day you can start the fun part - coating and decorating! I rolled mine into 3 balls and I coated one in black pepper, the second in a mix of dill and chives and the last on in edible flowers! I know it is really extra, but I can't help it! There are so many different ways to use this cheese, ravioli stuffing? lasagne? sarmies? pizza topping? I am really excited to try it as a ricotta substitute in some spinach and ricotta cannelloni, so I will keep you in the loop with that food adventure!
Please let me know if you give this a bash, I LOVE your feedback! If you want to see more of what I get up to please take a look at my Facebook, Instagram, Twitter. If you want to catch peaks of cats, self-motivating gym selfies, step-by-step vegan recipes, bits of Durban and lots of delicious food keep an eye on my Instagram stories! OH! Please DO subscribe on the right!
Love,
Duffymoon