I don't know if you are aware, but tomorrow is INTERNATIONAL TACO DAY! If it were up to me it would fall on a Tuesday every year, but hey, I don't make the rules. The best way to celebrate taco day is naturally with tons of tacos (how many times am I going to say tacos in this taco post?).
I love Mexican food, its spicy and zesty flavours are just all round delightful and the meals are always so social. I have had a fair few Mexican inspired dinners and they always end with a group of us huddled around the table scooping up spicy beans and cheese-less cheese sauce with nachos and liberally drinking tequila-based cocktails. They have always ended up being the most fun and memorable little gatherings.
Back to tacos! Aside from being a very social food, they are also one of Darrens favourite foods and at his request, I have created soft shell tacos. He insists that hard shell tacos are terribly annoying and far too difficult to eat. However, if you prefer hard shell tacos then, by all means, go right ahead, they are in fact far easier to find, you can actually find them in most large supermarkets. Alternatively, all these filings would also make a great burrito. I picked up these mini soft tortillas in the frozen section at Checkers and I am delighted with them! So cute and so mini!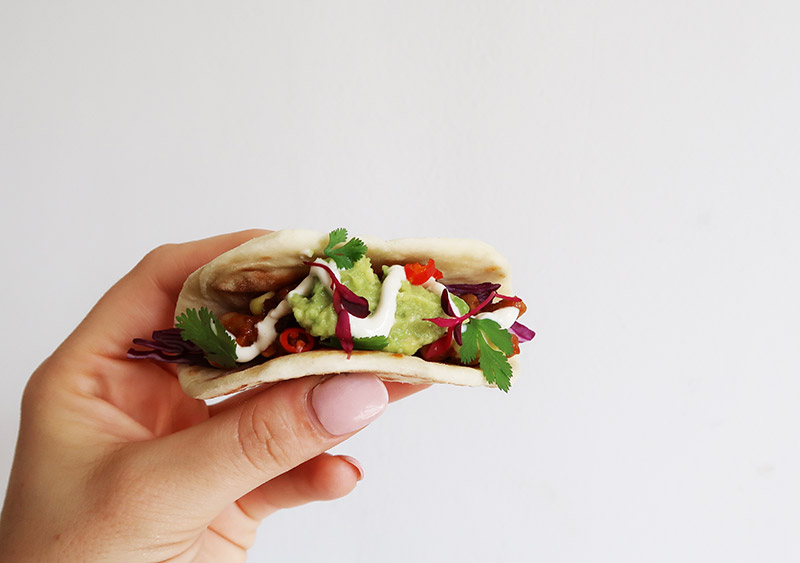 I have created the taco filling to be very easy to whip up and with foods that are easily accessible. You can dash past the shops on your way home, grab everything you need and throw these together in no time. If you are not a soy mince fan then skip it and add in a tin of lentils for a mince-like texture, but personally, I would recommend giving this soy mince a try, it is yummy. Let's get started!

You will need:
Cashew Sour Cream:
½ cup raw cashews
¼ cup water
¼ cup fresh lemon juice
1 tbsp nutritional yeast
pinch of salt
Taco Filling:
1 tbsp olive oil
½ chopped red onion
1 chopped clove garlic
1 tin black beans – rinsed
1 box Frys Meat Free Mince
1 cup tomato puree
1 cup water
½ box Woolworths Chilli Con Carne spice
1 cup of corn (I cut mine fresh off the cob)
2 tbsp maple syrup (or sweetener of your choice)
Salt to taste
Taco shells
First of all, let's address the cashew sour cream. A lot of people recommend soaking cashews overnight before making a sauce with them. I am sure that it is better to soak cashews for some health reason or another, but I never ever remember. SO I take my cashews, cover them in hot water and boil them on the stove until they are softened. This usually takes about 8-10 minutes. If you remember to soak your cashews, good on you! If not, you are still a domestic god/ goddess and you can still make sour cream. Either way, take your softened cashews and put them into a high-speed blender (I use my nutribullet), and add all the rest of the ingredients and blitz them until they are smooth and creamy as heck. Give it a little taste, adjust the seasoning if necessary and.
Next up heat up a heavy bottomed saucepan and fry your onions until softened and then chuck in your garlic followed by the Chilli Con Carne spice. Fry the spice and onion mix for 2-3 minutes until fragrant, if the spices start to stick to the pan then add a tablespoon or two of water to loosen it up.
Make sure your beans are thoroughly rinsed and then add that into your pan, followed by your soy mince, tomato puree and water. Allow the mince to simmer in the sauce until most of the liquid is evaporated and the sauce is nice and thick, then you can chuck in your maple syrup and a few drops of liquid smoke. It is at this point that I add in my fresh corn, give it a stir through, put the lid on and turn off the heat. This allows the corn to cook just enough without becoming overcooked.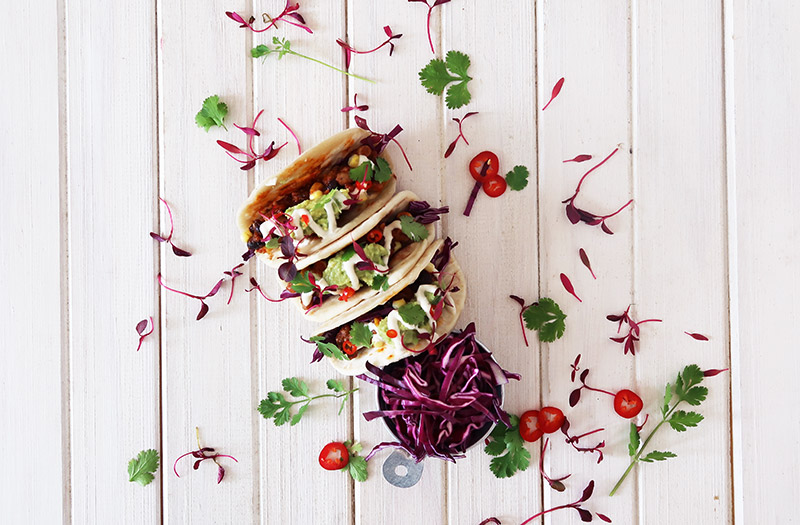 Here is the fun part! Tuck in! Fill your soft or hard shell tacos with delicious black bean filling and top them with guacamole, coriander, cashew sour cream and delicious homemade salsa or whip up a batch of cheese sauce to drizzle over the top, the opportunities are endless!
I hope you try this lil' recipe and if you do please leave a comment and let me know what you think of it. If you want to see more of what I get up to on social media please take a look at my Facebook, Instagram, Twitter. If you want to catch peaks of cakes, cats, selfies, step-by-step vegan recipes, bits of Durban and lots of delicious food keep an eye on my Instagram story! OH! Please DO subscribe on the right.
Love,
Duffymoon
…Oh and happy International Taco Day!