Hello my sweet little winter bunnies, it is almost happy weekend! It seems like winter has finally arrived, in Durban at least! I don't know 'bout you, but I am ready to snuggle up at home all weekend and get next level cosy! I have been wanting to share this steamed bun recipe for a little while now, but this chilly weather has pretty much made it an essential.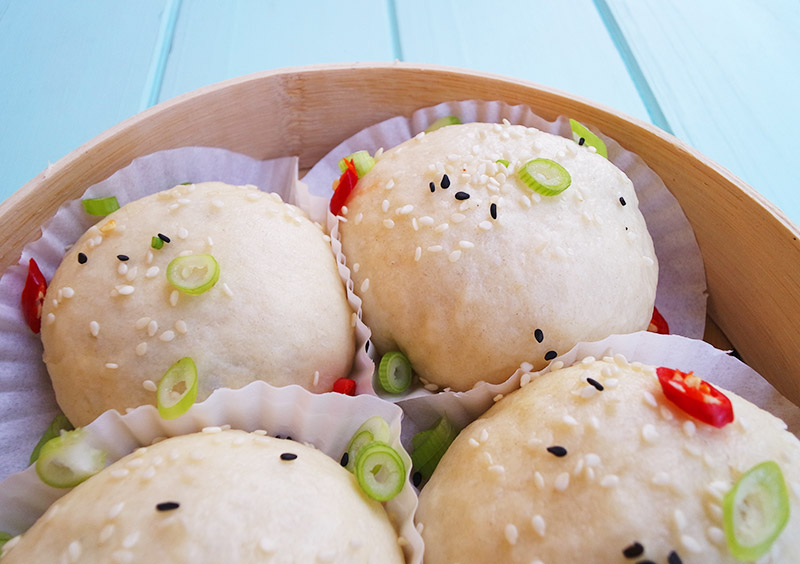 These soft and delicious Asian buns are filled with the most amazing mushroom filling, but you could pretty much fill them with anything, they are so versatile. They are much easier to make than you would ever imagine and also super (super) quick. You will need a bamboo steamer, but you can pick one of these up at any local Asian supermarket and they are usually pretty cheap. I served my steamed buns with the Woolworths Hoisin sauce and steamed Asian veg; bok choi, baby corn and mange tout. Let's get started!
You will need:
1 tin of coconut milk
500g self-raising flour
500g mixed mushrooms (sliced)
2 cloves of garlic (finely chopped)
1 tsp grated ginger
2 tbsp apple cider vinegar
2 tbsp sriracha sauce
1 tbsp maple syrup
2 tbsp soy sauce
3 spring onions
1 red chilli (deseeded and finely chopped)
1 handful fresh coriander (separated into leaves and stalks!)
oil of your choice (I used olive oil but maybe use sesame or groundnut for more Asian vibes)
salt to taste
hoisin sauce & sesame seeds to serve
bamboo steamer
paper cupcake liners
Let's start off by making the mushroom filling. Heat a splash of oil in a heavy bottomed pan, I use a Le Creuset cast iron casserole pot for absolutely everything. Add your garlic, ginger and finely chopped coriander stalks and fry them for about 3 minutes over medium heat until golden. Next, add your sliced mushrooms and continue to fry those for another 5 minutes - basically until soft and cooked. Now it is time to add your liquids! Chuck in your soy sauce, Sriracha, maple syrup and vinegar and allow it to cook until most of the liquid has disappeared and the mushrooms are deliciously sticky and caramelised. Transfer your mushroom mix to a bowl and add in your finely sliced spring onion and chilli - reserving some for the decoration of course! If you want to leave your chilli seeds in, don't come crying to me!
Next, let's move on to the dough. Add your flour, salt and coconut milk to a bowl and use a fork to combine into a smooth dough. This is pretty much the extent of the dim sum dough, easy right? Once your dough is smooth and elastic, separate into 12-14 equally sized pieces. Roll these pieces into balls and then flatten them so they are basically puffy little disks. Now comes the fun part - pulling it all together! Take your mushroom mix and place a tablespoon in the centre of your dough disk, then bring the sides up and pinch it at the top. Place these delightful little dough balls pinch-side-down in the paper muffin cases and divide them between your steamer baskets. You might have to do more than one steam session, but these little babes are worth it.
Put about 800mls of water at the bottom of your wok and bring to the boil with your bamboo steamer on top. Let your buns steam away for about 15 minutes, they should be puffed up and hot all the way through. Trust your instinct, also just follow the time and you should be fine! Once your steamed buns are done, sprinkle them with the sesame seeds, spring onion, chilli, a couple of coriander leaves and serve with a side of hoisin sauce.
All in all, this took me about 20 minutes (without the steaming) and it was soooo easy. You could try these with a variety of yummy fillings…next on my list is a 5 spice and cabbage mix, so I will let y'all know how that turns out. This is such a great recipe to make with friends, you could actually all get involved in stuffing the buns if your fillings are prepped beforehand, sounds fun right? It is! The feeling of satisfaction is unparalleled, it is amazing how this effortless little mix turns into this fancy looking meal!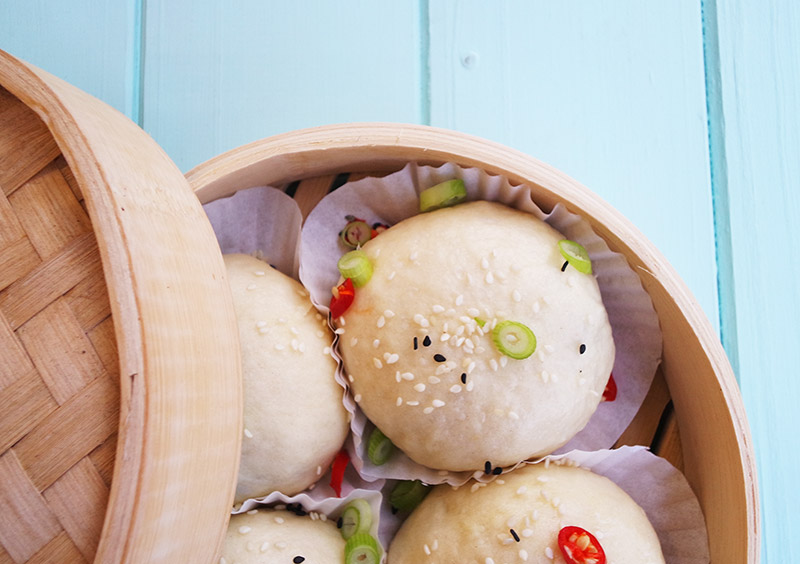 Thank you for taking a look at my latest recipe, if you want to see more of what I get up to on social media please take a look at my Facebook, Instagram, Twitter. if you want to catch peaks of cakes, cats, selfies, step-by-step vegan recipes, bits of Durban and lots of delicious food keep an eye on my Instagram stories! OH! Please DO subscribe on the right!
Love,
Duffymoon