You know I how love pretty things? Well I love being able to create pretty things even more! When I came across Pop Paint I was immediately obsessed with the amazing range of colours as well as the cute and quirky branding! I trawled the Website and poured over the delicious colours, picking a gorgeous range of pastels to play with.
Todays DIY is simple and easy. I have been wanting to add some fresh herbs to my kitchen counter for quite some time now but I honestly just couldn't find any cute pots, I am pretty fussy. SO! I decided to create some cute pastel beauties with my newly acquired Pop Paint. Besides, I really feel their motto: "Life's better when you add a pop of colour".
What do I need?
-3 terra cotta pots
-3 different herbs
-Pop Paint in your favourite colours
-a soft bristled paint brush
*masking tape is 100% optional - I didn't use any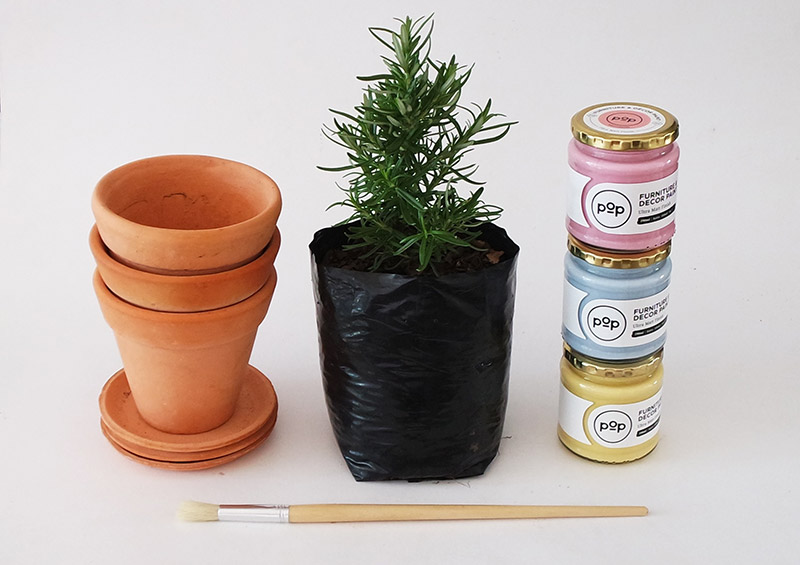 How do I do this?
First of all gather your terra cotta pots and brush them off with a cloth or a dry brush and make sure there is no lose dirt hanging around. When I bought mine they had a few spots of dried dirt on them, but nothing a little brush off can't handle. I found my tera cotta pots at the Tropical Nursery in Durban for R17 each, which I thought was a damn steal!
Next you can tape off the top "lip" of your pots with masking tape, I didn't do this because I like living on the edge and if I am honest my dog ate the whole roll of masking tape and I just decided to roll with it - haha, get it? It honestly didn't affect my end product. You might also choose to paint your entire pot...then you seriously don't need to tape anything off. Once your pots are prepped whip out your paint brush and pick your Pop Paint. I went with Macaroon, Provence and Buttery - my top 3 pastel shades! But there are 15 amazing colours to choose from so go crazy with colour!
The very next step is to shake up your jars of paint thoroughly and get painting. I would recommend using a very soft brush and dipping it into the lid of the paint tub, this way you get a very small amount of paint on your brush and trust me this paint spreads! You will notice we are not priming the pots and that is because these paints are practically self-priming. The paint application is smooth and easy and I only needed to do one coat on each pot - a DIY miracle! Not only does this mean the DIY is twice as quick, but it also means your dinky little paint pots last twice as long.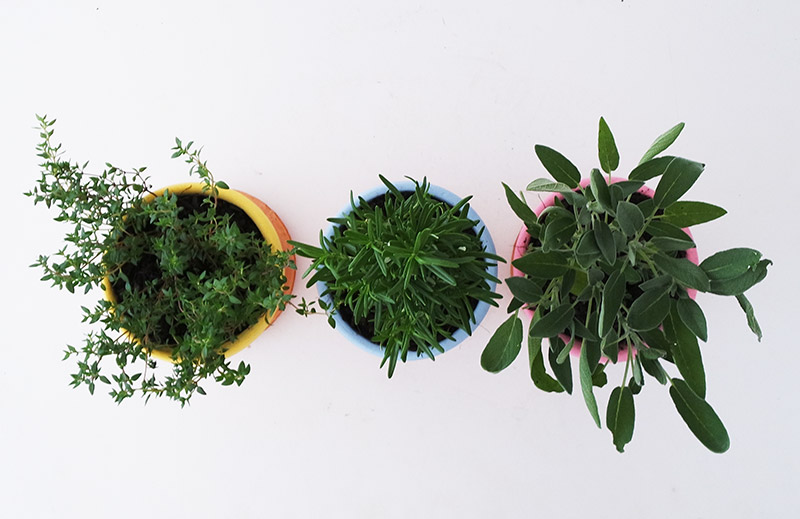 Once you have painted your pots, give them about 30 minutes to dry (max) and then it is time to get potting. I chose my favourite foodie winter herbs; rosemary, thyme and sage. I find that these are easier to take care of than the more delicate plants too, but you do you and pick whatever herbs tickle your fancy. I don't know how to describe potting a plant, but you pretty much shake off the excess soil and stick the plant in the pot, making sure all the roots are covered with potting soil, aka - that stuff that comes in the black bag with the plant.
After this you are pretty much done! Make sure to take care of your little potted friends and water them regularly, I mean...just look how cute they are? This is such an easy way to add a little pop of colour to your existing house plant pots as well as some new ones.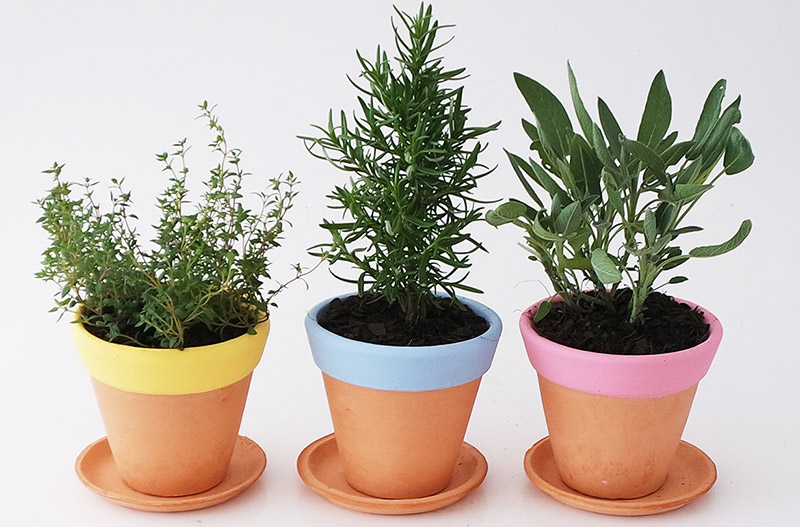 Thank you for taking a little look see at my latest post and thank you so much to Pop Paints for sponsoring this DIY post on Hello Duffymoon. Keep checking back for some more cute and colourful DIY's! If you want to see more of what I get up to on social media please take a look at my Facebook, Instagram, Twitter and feel free to add me on Snapchat (jordynburne) if you want to catch peeks of my newest cakes, cats, selfies, fashion stuffs, step-by-step recipes, bits of Durban and lots of delicious food! OH! Please DO subscribe on the right, I promise I am not spammy.
Love,
Duffymoon